手数料オープン Commissions Open!
自分だけの和風ケモノを着よう!タイムスロットを競うことはありません。スーツのリクエストを送信してください。3日以内にご連絡いたします。高速で高品質なケモノメーカーであることに誇りを持っています!

Wear your own Kemono! Do not compete for time slots. Submit your suit request. We will get back to you within 3 days. We take pride in being a fast and high quality kemono maker!
Click Here for Your Fursuit!
エピックデザイン Epic Designs
態度でケモノを手に入れよう!
Get a Kemono Fursuit with attitude!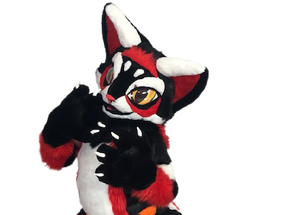 愛らしいデザイン Adorable Designs
かわいいケモノになりましょう!
Be the cutest Kemono Fursuiter!
ユニークなデザイン Unique Designs
オリジナルのケモノファースーツで数少ない
Be one of the few with a Orginal Kemono Fursuit designed
利用可能な既製のファースーツ Available Premade Fursuits
かわ Kawa, Premade Otter Partial

Regular price

Sale price

$2,400.00

ごろ Goro, Premade Hyena Partial

Regular price

Sale price

$2,800.00