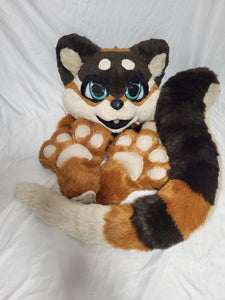 Get ready to make a splash at your next fur con with かわ Kawa, the brand new otter partial fursuit from Rising Sun Kemono!
This beautifully crafted fursuit features intricate details and bold coloring, making it a standout choice for any fan of the Kemono style. The partial includes a head with an original sculpture, foam base, and open mouth, as well as an interior head fan to keep you comfortable while wearing it. The Kemono-style eyes add an extra touch of personality, and the fully lined interior ensures a comfortable fit. The set also includes lined puffy hand paws and a tail to complete the look.
Don't miss out on this one-of-a-kind fursuit!

Please note that this Fursuit was created lovingly in a house with pets (dogs).
By purchasing you agree to Rising Sun Kemono terms and conditions. (https://www.rskemono.com/pages/term-of-service)
Payment will be taken via PayPal. Payment plans with 30% deposit are available for up to 6 months with delivery upon full payment. Domestic US and International shipping is available and price shown is only estimate.